The Rev story began in 2014 when our founders recognized the opportunity to be on the forefront of the local cannabis industry.
Our name was born out of our mission: to revolutionize the cannabis industry and make the world a better place. This means embracing the capacity for cannabis to bring people together into a community that values fairness and inclusivity. It means destigmatizing an industry tarnished by decades of social and political baggage. It means delivering greater reliability from seed through service. Last but not least, it means pushing the boundaries of what's possible in cannabis.
Indeed, the quality and variety of our product line is key to our mission. Guided by our love of the plant and customer feedback, we search for the most unique and viable strains. Our genetic research combines with seed popping and pheno-hunting to continuously redefine our genetic library, while we experiment with cannabinoids to meet demand for novel products.
Today our mission is driven by the many people, products and places that wave the Rev banner. Come take a tour of our facility and meet our people. See our mission in action and what it could mean for you.
A LOCAL FOCUS
While our research & development knows no boundaries, our geographical focus does. We're exclusive to Massachusetts, and we like it that way. Most of us have grown up around here, and we take great pride in supporting our local industry. This means using local vendors, donating time and money to community causes, and doing everything we can to help our local customers and aspiring entrepreneurs be successful.
A PLANT FOR ALL PLANTS
Located in a historic shoe factory in Fitchburg, Massachusetts, Revolutionary Farms was designed to support our quality standards. The combination of ample space, modular workflow and environmental controls allows us to grow large volumes of healthy plants. Above and beyond volume, the smaller footprint of our 35+ grow rooms means more dedicated attention and care from our team of expert growers.
But the health of our plants isn't our only concern. The health of our people and planet are too. So we've integrated a host of sustainability measures, from a geo-thermal heat pump system and liquid-cooled LED lighting to fan-cooled water-to-air heat exchangers and eco-friendly packaging. It all adds up to maximum crop yield with minimal environmental impact.
GROWING GREATNESS
Our grow facility is home to some of the happiest cannabis plants you could ever imagine. Pampered from seed to flower, every plant is cultivated and nurtured by the most talented, creative growers.
Over 40 separate pods prevent cross-contamination and are outfitted with geothermal water-cooled LED lights, automated irrigation systems, and perma-therm walls to keep out mold, mildew and other contaminants.
While hundreds of plants are trimmed daily, you'll never find us cutting corners. Plants are carefully pruned to allow maximum penetration of light and airflow, with well-tended mothers providing over 150 healthy clones.
After harvesting, our plants are individually hung in our climate-controlled drying facility and monitored over the course of 10 days to arrive at optimal texture and quality. Last but not least, every bud is manicured to remove small sugar leaves and inconsistencies that can compromise the smell, taste and THC levels.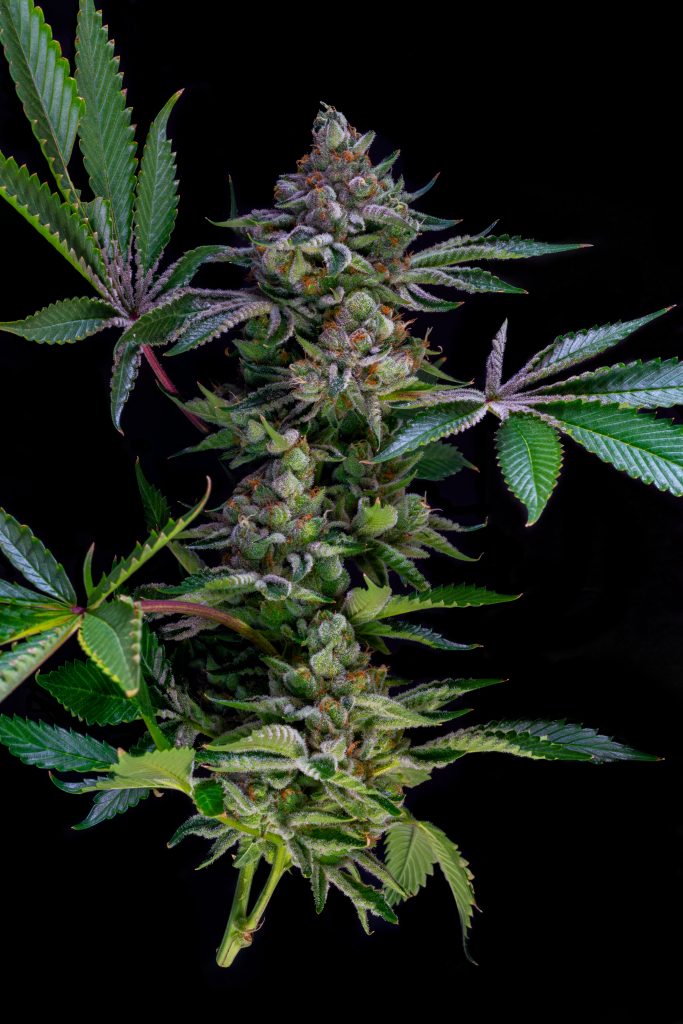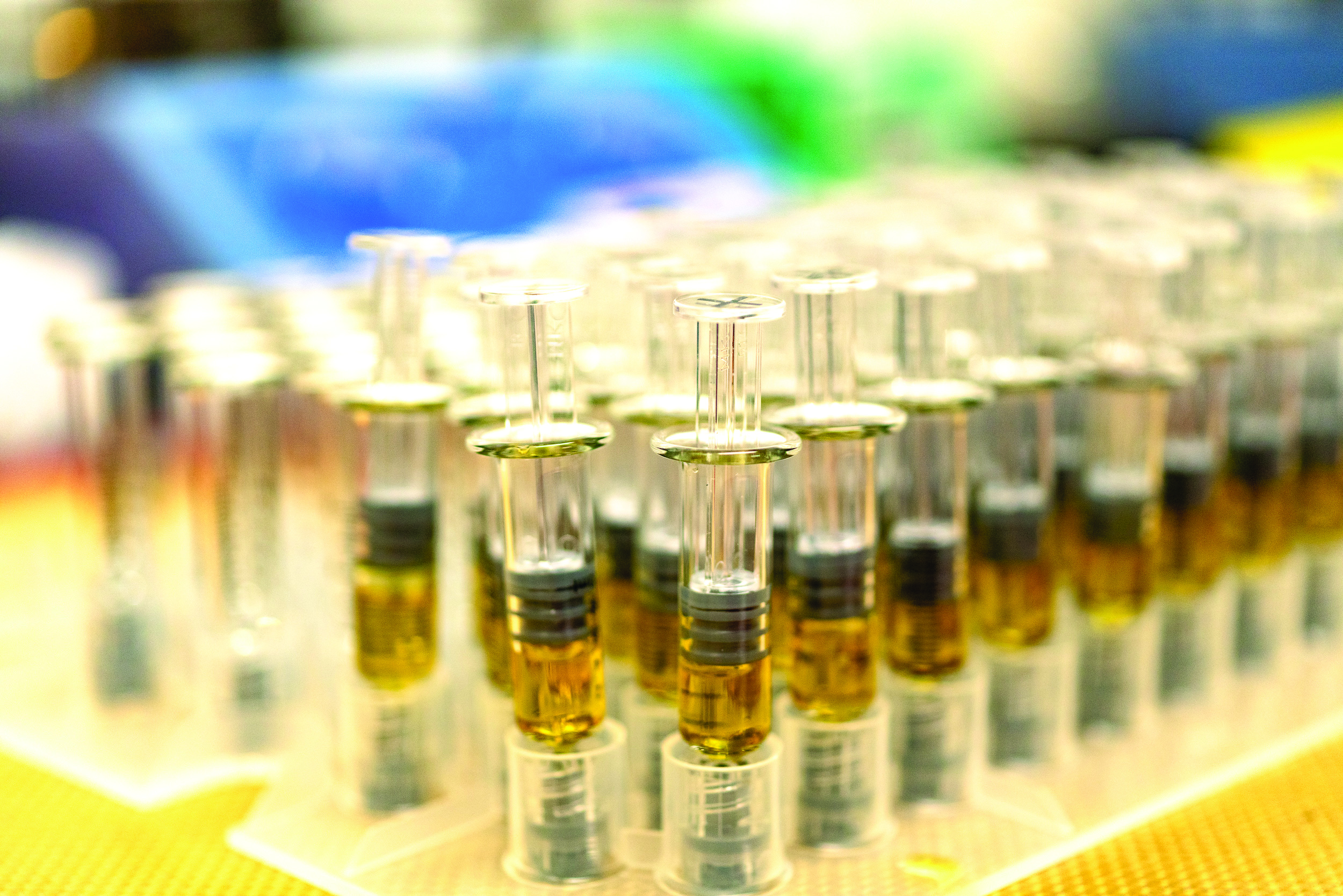 EXTRACTION TO PERFECTION
In our labs, we perform extractions for our distillate and CO2 oils, live sugar, shatter, rosin, RSO and traditional hash products. We combine the latest technology with an ethanol-based process for quality and efficiency. Our three lab team leaders have over 20 years of regulated industry experience, and everything from process to product is subject to rigorous QC and QA testing.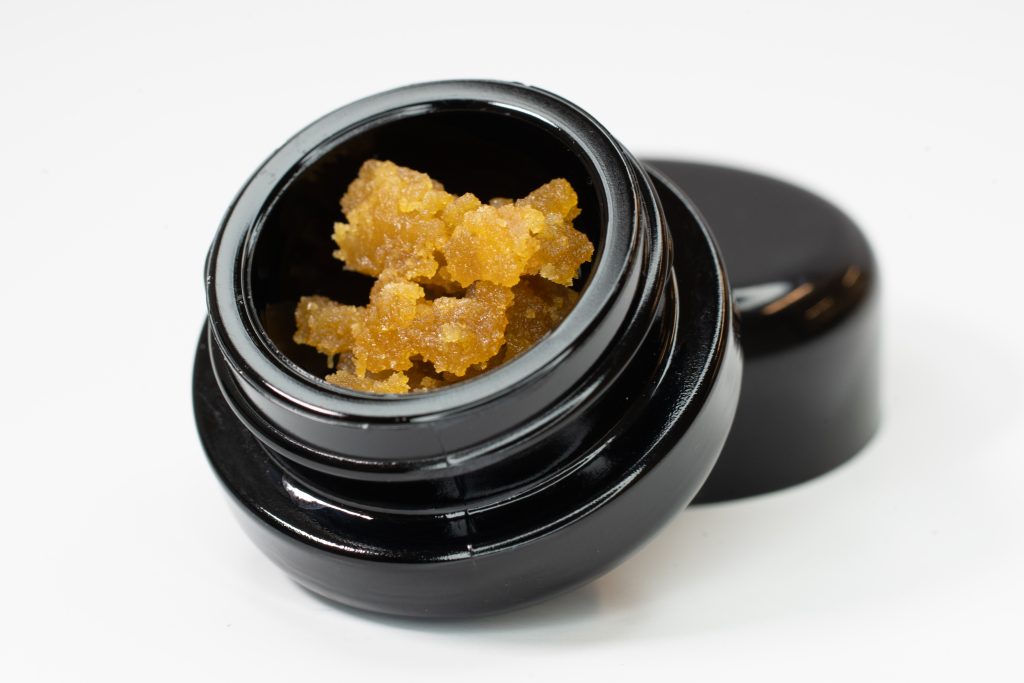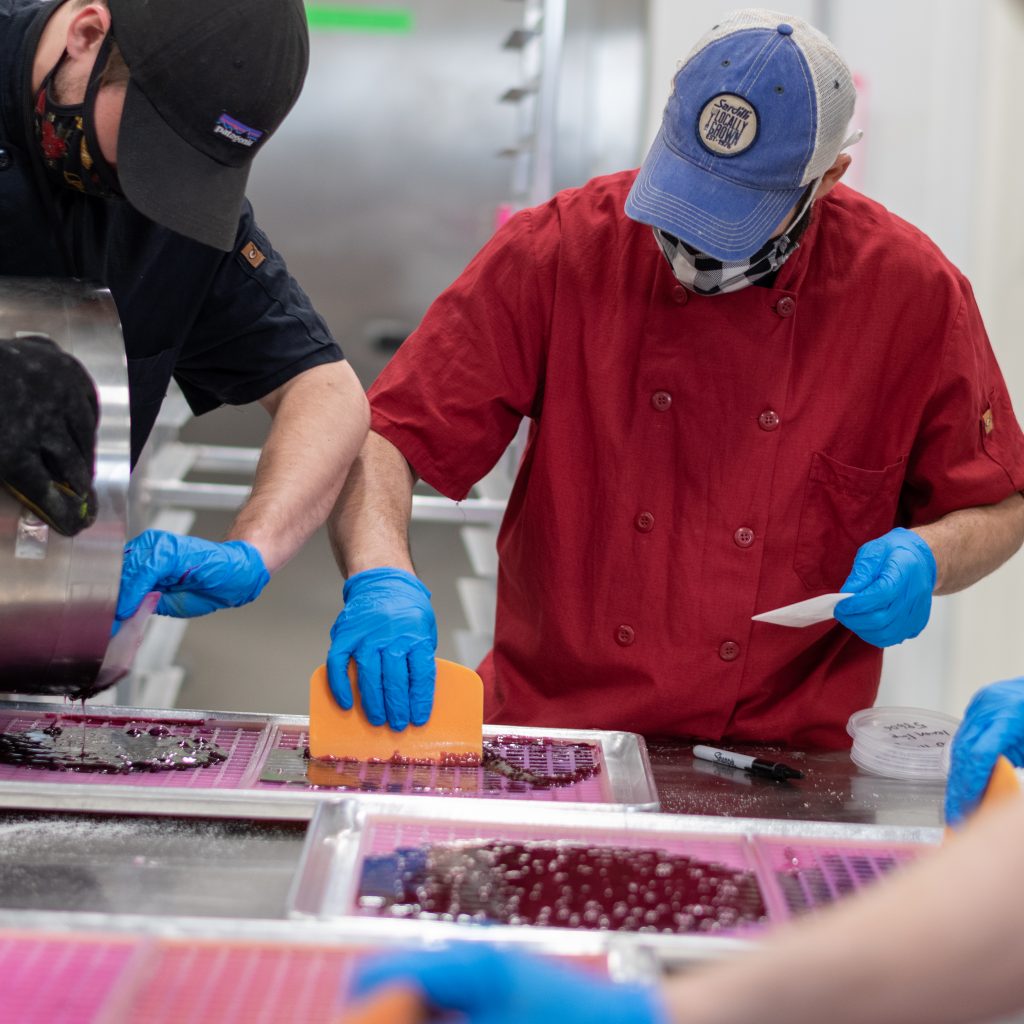 COOKING WITH CARE
Succulent gummies. Delectable chocolates. Savory spreads. In our 2000 square foot kitchen, over half a million edibles are created every month. Our chefs combine the highest quality ingredients with proven recipes and masterful culinary techniques to create exquisite tasting infused edibles.
We combine customer feedback with our own creativity to keep our offering interesting and relevant, including dietary-need products such as gluten-free edibles, and seasonal or holiday items that can boost your sales.
SUPPORTING YOUR SUCCESS
We understand the challenges of starting up a cannabis business because we've been through every step ourselves, from choosing real estate and passing CCC inspections to training staff and building customer loyalty. So we offer a great level of service and programs to set you up for success.
We know this business is all about relationships – with people you can not only turn to, but also relate to. So when the time is right, we invite you to tour our facility and meet the team that will serve your business. And when we start working with you, we'll never stop working for you. This means executing orders and responding to calls quickly while continuously looking for ways we can make your business stronger and your life easier.